Shoppers Drug Mart: $20 Off Purchase of $75 Printable Coupon (Feb 3)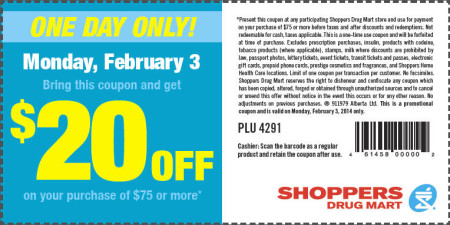 Shoppers Drug Mart has a new printable coupon that will save you $20 off your purchase of $75 or more! The coupon is valid for 1-day only today (Monday, February 3, 2014). You must print the coupon and give it to the cashier at time of purchase.
Make sure you read the fine print before you use the coupon because there are restrictions and excludes certain products.
Click here to print Shopper Drug Mart's $20 off coupon.
Click here to find a Shopper Drug Mart store near you.