Holt Renfrew: Black Friday Event (Nov 29 – Dec 1)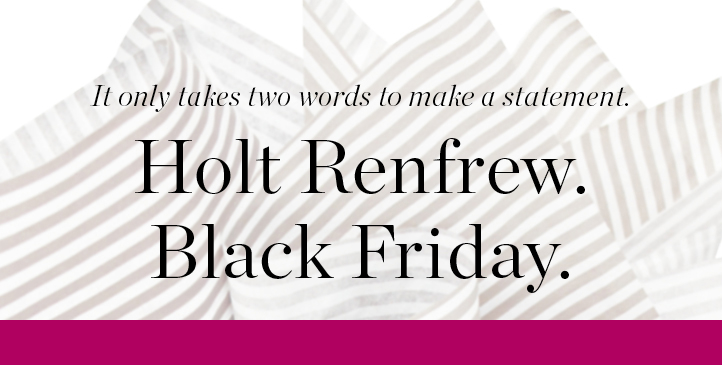 Holt Renfrew is having a Black Friday Event this weekend (Friday, Nov 29 to Sunday, Dec 1, 2013).
During the sale, you can save up to 40% off selected fall women's and men's designer fashion, accessories and shoes.
Stores will open early and stay open late. Click here to check your local store hours.
ADDITIONAL LIMITED TIME OFFER
FRIDAY NOVEMBER 29
7 AM TO 10 AM
8AM to 11AM (Quebec City & Montreal)
7AM to 12PM (Calgary)

Save 50% off Holt Renfrew men's & women's terry robes and a selection of cashmere slippers**
Save 50% off select Holt Renfrew men's dress shirts and ties**
Click here to visit Holt Renfrew`s website for more details about the sale.
Click here to find a Holt Renfrew store near you.