Air Canada: Worldwide Seat Sale (Book by Sept 12)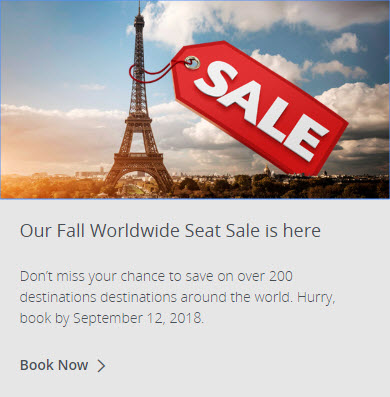 Air Canada is having their Fall Worldwide Seat Sale.
The four corners of the world are yours to explore. With over 200 destinations on sale, from Melbourne or Shanghai to Santiago or Mumbai, great discoveries come with great savings.
Don't miss out, this sale ends September 12, 2018!
Book by: 12-SEP, 2018 (11:59 pm MDT)
Travel dates: 18-SEP, 2018 – 19-DEC, 2018 (Tue, Wed, Thu and Sat)
8-JAN, 2019 – 14-FEB, 2019 (Wed, Sat, and Fri)
19-FEB, 2019 – 30-APR, 2019 (Wed, Sat, and Fri)
Advance purchase:purchase at least 14 days prior to your departure date
WestJet is having a similar seat sale. Check both sites to compare prices and flight selection.
Travel Tips:
Click here to visit AirCanada.com to book a flight now or for more details.