KFC: $2 for Big Crunch (July 5 from 11am – 4pm)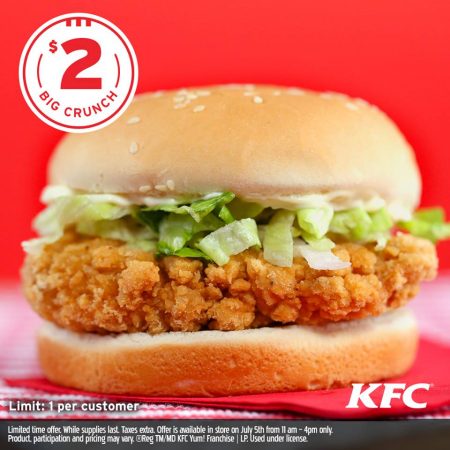 KFC Canada is having a 1-day only promotion today.
Get your favourite Big Crunch Sandwich for only $2. Available on Thursday, July 5, 2018 from 11 am – 4pm only. There's a limit of 1 per customer while supplies last.
It all begins with KFC's extra crispy, seasoned chicken breast, topped with lettuce and dressed with mayonnaise sauce, served on a warm oval Kaiser bun.  You can also add individual fries & 20 oz drink for $2.
Click here to visit KFC's Facebook page for more details
Click here to find a KFC restaurant near you.