The Adventure Zone: $12 for Weekday or $13 for Weekend Admission for Two, $24 for Four, or $36 for Six (Up to 50% Off)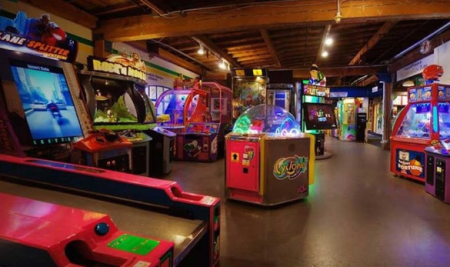 LivingSocial Vancouver Daily Deal of the Day: The Adventure Zone: $12 for Weekday or $13 for Weekend Admission for Two, $24 for Four, or $36 for Six (Up to 50% Off)
Buy now from only $12
Value $22
Discount 45% Off
What You'll Get
Choice of:
Weekday Admission for Two with 8 Tokens
Weekday Admission for Four with 16 Tokens
Weekday Admission for Six with 24 Tokens
Weekend Admission for Two with 8 Tokens
Weekend Admission for Four with 16 Tokens
Weekend Admission for Six with 24 Tokens
Kid's Arcade and Prize Zone
In the Circuit Circus Games Zone, children earn tickets by mastering various games of timing and coordination (like Skee-Ball, Monster Drop, and a giant-sized Fruit Ninja game.). There are over 50 games to choose from, with a broad range of challenge for all age groups. And just this month, we've added 6 new exciting games, including 2 head to head adult sized basketball hoops games, a laser targeted shooting game, a water shooting game and more!
Then they "buy" their prizes at the generously supplied Prize Zone. This is where kids' eyes really light up, as they haggle for prizes with their hard-earned tickets. Each child gets an admission into the indoor playground (which includes the all-new i-Wall) and four game tokens to use in the arcade with this deal.
This is a limited 3-day only sale that will expire at midnight on Friday, October 13, 2017.
Click here to buy now or for more info about the deal. Quantities are limited so don't miss out!
The Company
The Adventure Zone
http://www.vancouvereventcenter.ca/
Fairview 1496 Cartwright Street # 230, Vancouver, BC V6H 3Y5 (1.1 miles)
+16046086699
Indoor playgrounds can be a good alternative to avoid monkey bar injuries or skin damage due to the powerful sun. At The Adventure Zone, there is a multi story indoor playground that is fully enclosed, fully padded and undergoes scheduled weekly cleaning. On rainy days in Vancouver, the best place for kids to burn off their unlimited supply of pent-up energy is probably an indoor playground.
Ball Pit Kids get to enjoy the rollicking fun of being chest deep in our ample ballpit to swim", "shoot baskets", relocate the balls to build "ball dams", or even color code the balls by room. The lower part of our playground is now called the "Ball Level", and kids are free to remake the Ballscape as they see fit.
* i-Wall* is the latest exciting attraction at The Adventure Zone. It's a different take on game interaction like the popular, venerable 'i-Floor'. Instead of kids jumping on virtual bugs, soccer balls, and like objects on the floor, kids use the unlimited ammunition of Ball Pit Balls to take down virtual monsters, flying fruits and sea creatures on a giant wall. There are 10 kid themed games. The wall tracks the balls, and responds to hits and misses with equal enthusiasm.
The Fine Print
Promotional value expires 120 days after purchase. Amount paid never expires. May be repurchased every 30 days. Limit 2 per person, may buy 2 additional as gifts. Not valid until 10/16. Valid only for option purchased. Merchant is solely responsible to purchasers for the care and quality of the advertised goods and services.
Click here to buy now or for more information about the deal. Don't miss out!