Mint.ca: $2.50 for a 10-Pack of Stanley Cup Quarters + Free Shipping Code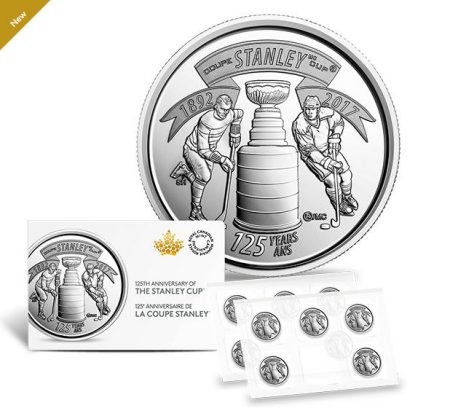 The Royal Canadian Mint is offering 2017 25-Cent 125th Anniversary of the Stanley Cup Ten Coin Pack for $2.50 (no tax + free shipping).
Enter the promotional code FREESHIPSIGNUP at guest checkout to get free shipping.
There's a limit of 1 order per household. The offer is available in Canada only and will start shipping on April 10, 2017.
I bought the deal as soon as I saw it. It's a no brainer – you have nothing to lose. You basically spend $2.50 to get $2.50 of mint collector coins.
The Royal Canadian Mint is proud to mark the 125th anniversary of the Stanley Cup with a quarter—pocket change that pays tribute to hockey's ultimate prize and a celebrated Canadian icon.

The design of this new coin depicts the Stanley Cup flanked by two hockey players. On the left is a player who would have vied for the trophy in its earliest days; on the right is a player from today's era. Together, they represent the full span of the Cup's rich history.

Don't wait to find the 125th Anniversary of the Stanley Cup commemorative quarter in your pocket change. Order now to get these beautifully crafted quarters, sealed as a special keepsake, to get them today and hold on to them.
Click here to visit Mint.ca to place an order now or for more details.