REMINDER: Smoke's Poutinerie – $15 for a $25 Re-Loadable Gift Card (40% Off)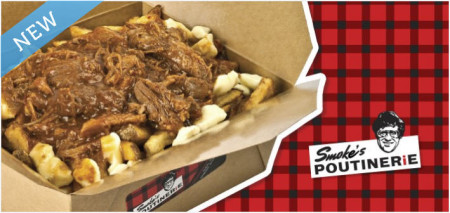 Reminder Update: I originally posted about this deal on Monday. Here's a reminder that it's still available to buy today. This deal is a very hot seller! At the time of this post, they have already sold over 2,000+ vouchers so don't miss out!
TeamBuy Hot Daily Deal of the Day: $15 for a $25 Re-Loadable Smoke's Poutinerie Gift Card
Buy now for only $15
Value $25
Discount 40% Off
TeamBuy is featuring a delicious deal to Smoke's Poutinerie today. The deal only costs $15 for a $25 Re-Loadable Smoke's Poutinerie Gift Card! That's a savings of 40% off! You may buy 1 for yourself and unlimited as gifts.
Smoke's Poutinerie has 28 locations across Canada including stores in Calgary, Vancouver, Toronto, Ottawa, Winnipeg and Montreal.
Highlights
Limited quantities available.
Gourmet all-Canadian Poutine.
Over 30 different types of Poutine including: Bacon, Triple Pork, Philly Cheese Steak, Nacho Grande, Hogtown, Veggie Deluxe and more.
Choose from 28 locations to pick up your Gift Card!
This deal is going to be a very hot seller! TeamBuy has already sold over 2,000+ vouchers at the time of this post! Quantities are limited so buy the deal now before it sells out!
This is a limited 1-week only sale that will expire at midnight on Sunday, February 16, 2014.
Click here to buy now or for more info about the deal. Quantities are limited so don't miss out!
Buy Details
Includes a $25 gift card to Smoke's Poutinerie.
Max 1 per person. Unlimited as gifts.
Please select preferred location for picking up gift card at checkout; buyers will ONLY be able to pick their gift card at that location.
Please note that limited quantities are available per location.
Gift card will work at ALL locations after picked up, with the exception of the following locations: Air Canada Centre Location, RICOH Coliseum Location, BMO Field Location, Scotiabank Place Location, Canadian Tire Centre Location.
Buyers must pick up their voucher by expiry date. After expiry, buyers must email Head Office to redeem (will revert to $15 value).
Tax not included.
Cannot be redeemed before February 25, 2014.
Expiry Date: April 3rd 2014
Smoke's Poutinerie
http://www.smokespoutinerie.com/
Known for their Quebec classic Poutine, as well as those that are not so traditional, it is clear that Smoke's Poutinerie strives to concoct something for everyone. Considered comfort food by some and a well-rounded meal by others, the weight of the overstuffed box your Poutine arrives in may resemble that of a small baby. The protein, iron and starch included with every Poutine cover three of the main food groups while customizable toppings, such as grilled chicken, flat iron steak, sautéed mushrooms and chipotle pulled pork cover the rest. Menu favourites from this all-Canadian Poutine restaurant include the Pulled Pork Poutine, Hogtown Poutine and Nacho Grande Poutine. Order and eat-in at the diner-esque Smoke's Poutinerie, or grab your belly-filling Poutine to go.
A limited number of Gift Cards have been allocated per restaurant. Please select the location where you will be picking up your Gift Card during checkout.
Available Pickup Locations:
218 Adelaide Street West, Toronto, ON
203 Dundas Street East, Toronto, ON
578 Queen Street West, Toronto, ON
490 Bloor Street West, Toronto, ON
116 Atlantic Avenue, Toronto, ON
772 College Street, Toronto, ON
551 Richmond Street, London, ON
407 Dalhousie Street, Ottawa, ON
183 Division Street, Kingston, ON
112 George Street, Hamilton, ON
20 Wyndham Street North, Guelph, ON
10 Summer Street, St. Catharines, ON
255 King Street North Unit #15, Waterloo, ON
305 North Front Street Unit #16, Belleville, ON
24A Dunlop Street West, Barrie, ON
75 King Street East, Oshawa, ON
5869 Victoria Ave, Niagara Falls, ON
2019 rue Bishop Street, Montreal, QC
18th Avenue SW, Just East of 4th Street, Calgary, AB
942 Granville Street, Vancouver, BC
100-269 Bernard Ave, Kelowna BC
131 Albert Street, Winnipeg, MB
855 Regent Ave unit 400, Winnipeg, MB
99 York Street, Fredericton, NB
5236 Blowers Street, Halifax, NS
165 Water Street, St. John's, NL
Click here to buy now or for more information about the deal. Don't miss out!