Goodlife Fitness: 40% Off at Adidas and Reebok (Feb 10-16)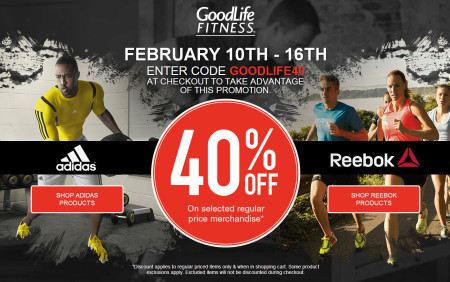 Goodlife Fitness has teamed up with Adidas and Reebok by offering 40% off select regular priced merchandise when you enter the promo code GOODLIFE40 at checkout! This offer is available online only from February 10-16, 2014. You don't have to be a Goodlife Fitness member or anything to take advantage of this offer. Anyone can take advantage of this deal if you enter the code.
This is going to be a very popular sale so shop early for the best selection of styles and sizes.
Discount applies to regular priced items only & when in shopping cart. Some product exclusions apply. Excluded items will not be discounted during checkout.
Adidas.ca offers free shipping on orders over $50.
Reebok.ca offers free shipping on all orders.
Click here to visit Goodlife's website for more details about this offer.
Click here to shop Adidas.ca now.
Click here to shop Reebok.ca now.