Entertainment: All 2014 Coupon Books 40% Off + Free Shipping (Until Feb 9)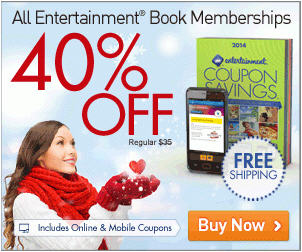 The new 2014 Entertainment Coupon Books are currently 40% off + free shipping! The sale is available online only from January 31 to February 9, 2014.
Today (Feb. 2) is Super Bowl Sunday! Get your favorite pizza coupons immediately.  You don't have to wait for the book. Just sign up for digital access only $19.99 and you will get all your local coupons NOW!
I've bought Entertainment's coupon book the last 10 years and highly recommend it. I've saved a lot of money over the years thanks to all the fantastic 50% off and 2-for-1 coupons. I usually buy a book at the start of the year and another book near the end of the season when they're on sale.
You can visit Entertainment's website to see all the local coupons and merchants in the book. There's a lot of very good coupons this year.
The Entertainment Coupon book is your source for great local discounts. You'll find coupons for your favourite everyday activities including: local restaurants, groceries, shopping, services, movie tickets, travel, car care, local sports attractions, home furnishings, and much more.
Local Coupon Books are valid from August 2013 – December 2014.

Purchase of an Entertainment

 Book Membership includes access to mobile-redeemable coupons and online printable coupons.

Enjoy savings when you travel, along with discounts near home.
Click here to buy your 2014 Entertainment Coupon Book now or to see all the coupons and merchants