Best 2014 Super Bowl Commercials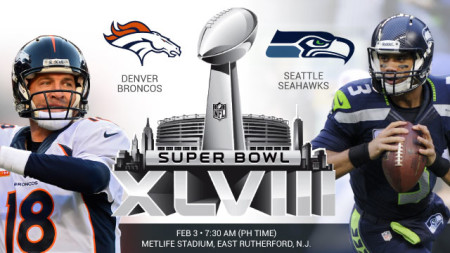 Congratulations to the Seattle Seahawks for winning the 2014 Super Bowl.
I love the NFL, but it sucks how Canadians don't get to watch the awesome Super Bowl commercials. This is because Canadian TV networks pay for the exclusive right to broadcast the big game and show their own ads instead of the ones shown in the US. This year, over 100 million people watched the game and each 30-second commercial cost advertisers $4 million dollars!
Thanks to the internet, we can watch all the Super Bowl commercials on YouTube or online. Which Super Bowl commercial did you like best?
Here's some of my favourite and best 2014 Super Bowl Ads:
Cheerios 2014 Game Day Ad | "Gracie":

Budweiser Super Bowl XLVIII Commercial — "Puppy Love":

Bud Light – Ian Up For Whatever Film:

2014 Kia Soul – Totally Transformed – Hamsters Commercial:

Doritos – Time Machine:

Mcdonalds Super Bowl 2014 Commercial – Lip Reading:

SodaStream – Scarlett Johansson's Sexy:

2014 Volkswagen Game Day Commercial – Wings:

2014 Kia Matrix Super Bowl Commercial:

Coca-Cola's multi-lingual "It's Beautiful":

Audi's Doberhuahua:

T-Mobile and Tim Tebow – No Contract:

Honda 2014 Big Game:

Dannon Oikos Greek Yogurt – Full House reunion – The Spill:

Jaguar 2014 Big Game Commercial – British Villains:

RadioShack Super Bowl Commercial 2014 HD:

Microsoft 2014 Super Bowl Commercial: Empowering