A&W: New Printable Coupons (Until Mar 2)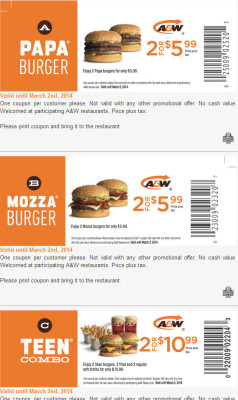 A&W just released a new batch of printable coupons! The coupons are valid now until March 2, 2014. You'll need to print the coupons and bring it to the restaurant.
One coupon per customer please. Not valid with any other promotional offer. No cash value. Welcomed at participating A&W restaurants. Price plus tax.
Here's a sample of the coupons:
Papa Buger – 2 for $5.99
Mozza Burger – 2 for $5.99
Teen Combo  – 2 for $10.99
Reen BUrger and Sweet Potato Fries for $5.99
Mama Burger for $199
Click here to visit A&W's website to print the coupons.
Enjoy the savings!