The Bay: Save $100 Off Dyson Vacuums (Until Aug 30)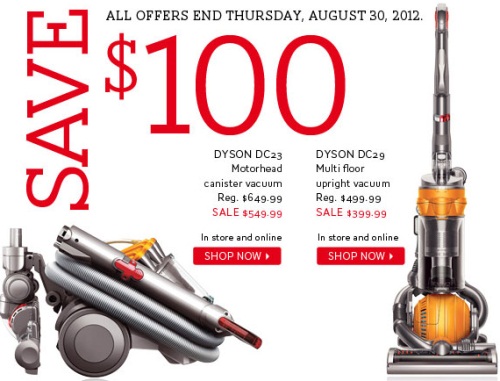 UPDATE: The Dyson DC29 Multi-Floor Upright Vacuum is currently out of stock shortly after I posted this.
If you've been thinking about buying a Dyson Vacuum, The Bay is offering $100 off the Dyson DC23 Motohead Canister Vacuum or Dyson DC29 Multi-Floor Upright Vacuum. The sale is available in-stores and online until Thursday, August 30, 2012.
I have Dyson Multi-Floor Upright Vacuum and absolutely love it. I bought it 5 years ago when I moved into my new house and it still works like new.
Click here to shop Dyson Vacuums at The Bay.
Enjoy! Press the "Like button" at the top of this post if you like this deal and to share it with friends and family.