Rising Sun Motorcycles: $245 for Early Season Tune-Up for One Motorcycle or $225 for Scooter (Up to 36% Off)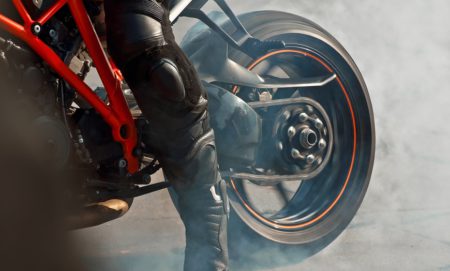 Today's Groupon Vancouver Daily Deal of the Day: Rising Sun Motorcycles: $245 for Early Season Tune-Up for One Motorcycle or $225 for Scooter (Up to 36% Off)
Buy now from only $225
Value $355
Discount 36% Off
Highlights
Technicians offer a motorcycle or scooter tune-up with oil/filter change, full mechanical inspection, general annual maintenance, and more
About This Deal
What's included in early season tune-up for a Motorcycle:

Report mileage
Confirm year/make/model
VIN search
Safety recall search – Transport Canada
Check and clear FI or engine codes (check engine light)
Oil and filter change (regular 10w40 or 20W50 – up to 3.5L max – synthetic options available at additional cost)
Replacement of oil filter and crush washers
Report on condition of old oil – dirty/metal/etc
Chain service – clean/lube/adjust
Rear wheel alignment and axle adjustment
Inspection of general cosmetic damage and missing hardware
Load test battery and charging system tests – charge/desulfate battery if needed
Inspection of the starter motor and solenoid relay
Inspection of the cooling system – test fans and check coolant – top up coolant as needed
Inspection and adjustment of engine idle – confirm no air leaks on the intake system
Inspection of engine gaskets and seals – report any leaks or weeping
Inspection and service of air filters (some restrictions apply)
Inspection of fuses and electrical connections, clean corrosion, add dielectric grease to connections
Inspection of fuel delivery system – report on carbs or fuel injection – flush carbs if needed
Add fuel system cleaner and octane boost
Inspection of petcock and fuel filters – replacement fuel filter not included
Inspection of fuel lines and clamps – note any cracking
Inspection of choke operation or fast idle circuits
Inspection of the fuel tank for debris/rust
Inspection of final drive systems (chain, sprockets, belt, pulley, differential fluid)
Inspection of front and rear suspension systems
Lube and adjustment of throttle operation at steering lock positions
Lube and adjustment of throttle cable free play
Inspection and adjustment of the clutch system – check hydraulic system – lube/adjust clutch cable
Inspection of clutch and kickstand safety systems and switches
Inspection of the ignition system, spark plug caps and spark plugs (excludes some models)
Inspection of front and rear brake pads or drums
Inspection of brake lines, banjos, and crush washers
Inspection of brake fluid
Inspection of front and rear master cylinders
Inspection of wheel bearings and pivot points
Inspection of front and rear tires
Inspection of wheel bearings front/rear
Adjustment of tire pressures
Inspection of the steering head and swingarm bearings
Inspection of exhaust system and leaks
Inspection of top-end audible noise – advice on valves and cam chain tensioner
Check operation of all lights and signals (replacement bulbs/lighting not included)
Lube/adjust all cables and pivot points
Test ride and current running condition – report on any issues
Hand wash and detail (does not include chrome polishing)
Rising Sun Motorcycles branded T-shirt
What's included in early season tune-up for a scooter:

Report mileage
Confirm year/make/model
VIN search
Safety recall search – Transport Canada
Check and clear FI or engine codes (check engine light)
Oil and filter change (regular 10w40 or 20W50 – up to 2L max – synthetic options available at additional cost)
Replacement of oil filter and crush washers
Report on condition of old oil – dirty/metal/etc
Check Differential Oil – hypoid
Inspect CVT – clean all components – Report on clutch and variator
CVT Kicker – lube kicker gear/spring
Advice on belt and rollers (replacement belt/rollers not included)
Inspect/clean spark plug(s) – set gap (replacement spark plug not included)
Inspection of general cosmetic damage and missing hardware
Load test battery and charging system tests – charge/desulfate battery if needed
Inspection of the starter motor and solenoid relay
Inspection of the cooling system – test fans and check coolant – top up coolant as needed
Inspection and adjustment of engine idle – confirm no air leaks on the intake system
Inspection of engine gaskets and seals – report any leaks or weeping
Inspection and service of air filters (some restrictions apply)
Inspection of fuses and electrical connections – clean corrosion – add dielectric grease to connections
Inspection of fuel delivery system – report on carbs or fuel injection – flush carbs if needed
Add fuel system cleaner and octane boost
Inspection of petcock and fuel filters (replacement fuel filter not included)
Inspection of fuel lines and clamps – note any cracking
Inspection of choke operation or fast idle circuits
Inspection of the fuel tank for debris/rust
Inspection of front and rear suspension systems
Lube and adjustment of throttle operation at steering lock positions
Lube and adjustment of throttle cable free play
Inspection of brake and kickstand safety systems and switches
Inspection of the ignition system, spark plug caps and spark plugs (excludes some models)
Inspection of front and rear brake pads or drums
Inspection of brake lines, banjos, and crush washers
Inspection of brake fluid
Inspection of front and rear master cylinders
Inspection of wheel bearings and pivot points
Inspection of front and rear tires
Inspection of wheel bearings front/rear
Adjustment of tire pressures
Inspection of the steering head and swingarm bearings
Inspection of exhaust system and leaks
Inspection of top-end audible noise – advice on valves and cam chain tensioner
Check operation of all lights and signals (replacement bulbs/lighting not included)
Lube/adjust all cables and pivot points
Test ride and current running condition – report on any issues
Hand wash and detail (does not include chrome polishing)
Rising Sun Motorcycles branded T-shirt

Service restrictions: valid for all metric and American motorcycles, scooters, sports bikes, dual sport, cruisers, adventuring touring, sport touring, and full touring models. Deal price excludes a shop supplies fee of $9.99.
Is it a "full-service" shop? yes
This is a limited time offer while quantities last so don't miss out!
Click here to buy now or for more details about the deal.
Need to Know
Promotional value expires Apr 16, 2021. Amount paid never expires. Valid only at listed locations. This offer is valid for all metric and American motorcycles, scooters, sport bikes, dual sport, cruisers, adventuring touring, sport touring, and full touring models. Deal price excludes a shop supplies fee of $12.99 plus tax. Limit 1 per person, may buy 2 additional as gift(s). May be repurchased every 30 days. Limit 1 per visit. Must use promotional value in 1 visit(s). Valid only for option purchased. All goods or services must be used by the same person. Merchant is solely responsible to purchasers for the care and quality of the advertised goods and services.
Rising Sun Motorcycles
http://www.risingsunmotorcycles.ca/
1836 56th Street Unit 40, Delta, BC V4L 2M1
Rising Sun Motorcycles is an independent full-service motorcycle repair business. It offers winter storage, express services for a walk in customers, booked appointments, mobile services for emergency situations, pickup and delivery services, and pre-purchase inspections. If a bike has been involved in an accident, Rising Sun Motorcycles is able to work on any ICBC or private motorcycle insurance claim. They are a small shop that strives to offer unmatched customer service. The Red Seal certified mechanics' expertise may ensure very quick turnaround time.
Click here to buy now or for more information about the deal. Don't miss out!