Air Canada: Extended – Canada, U.S. & Sun Sale (Book by May 31)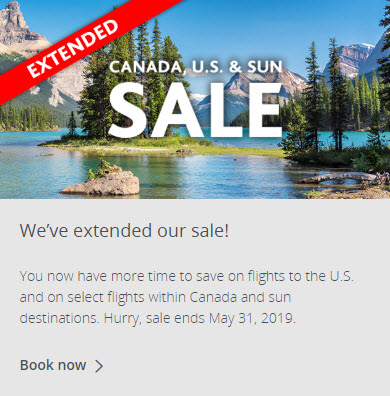 Air Canada is has extended their Canada, U.S. & Sun Seat Sale. The sale was originally set to end on May 30th. It's been extended to May 31st.
You now have more time to save on flights to the U.S. and on select flights within Canada and sun destinations.
Don't miss out! Sale ends on Friday, May 31, 2019.
Book by: 31-MAY, 2019 (11:59 pm MDT)
Travel dates:

14-JUN, 2019 – 31-JUL, 2019 (Tue, Wed, Thu and Sat)
3-SEP, 2019 – 15-DEC, 2019 (Tue, Wed, Thu and Sat)

Advance purchase: Purchase at least 14 days prior to your departure date
Travel Tips:
Click here to visit AirCanada.com to book a flight now or for more details.