HOT DEAL: Metropolitan Bartending School – $39 for a 3.5 Hour Bartending Class OR 3.5 Hour Wine Tasting Seminar (69% Off)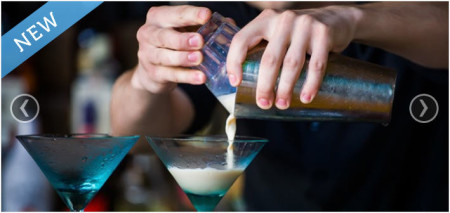 TeamBuy Vancouver Hot Daily Deal of the Day: $39 for a 3.5 Hour Bartending Class OR 3.5 Hour Wine Tasting Seminar from Metropolitan Bartending School ($125 Value)
Buy now for only $39
Value $125
Discount 69% Off
You Save $86
Be the one calling all the shots when you start serving up the drinks at your next gathering. But first, you gotta learn how to fix your mixes with today's TeamBuy deal: $39 for a 3.5 Hour Bartending Class OR 3.5 Hour Wine Tasting Seminar from Metropolitan Bartending School ($125 value). That's a savings of 69% off!
Highlights
Premier bartending school in the city, located in the heart of Kitsilano.
Programs lead by some of Vancouver's finest mixologists and bartenders.
Create flawless drinks like the professionals.
Transferable skills you can take to your next party!
This is a limited 1-week only sale that will expire at midnight on Friday, February 7, 2014.
Click here to buy now or for more info about the deal. Quantities are limited so don't miss out!
Buy Details
Includes your choice of a 3.5 hour bar tending Bar Chef course or 3.5 hour Wine Tasting Seminar.
Max 1 per person. Unlimited as gifts.
1 voucher per visit.
Must be over 19. Alcohol and ingredients included.
3.5 hour bar tending course includes an introduction to bar tending techniques, flavor combination and cocktail making.
3.5 hour Wine seminar includes 6 wines to taste, wine knowledge and pairing and a certificate.
By appointment only. Must call (604) 222-8363.
Tax and Gratuity not included.
Expiry Date: August 8th 2014
Metropolitan Bartending School
http://www.metropolitanbartending.com/
(604) 222-8363
3141 West Broadway Ave
Vancouver, BC, V6K 2H2
Drown someone else's sorrows for a change when you learn all the tricks of the trade. With today's deal, you'll get a 3.5 hour bartending class with all the alcohol and ingredients you need included. This fun, creative class will offer an introduction to bartending techniques, flavour combination and cocktail making which is everything you need to impress the guests at your next social gathering. You'll be taught how to serve up the ultimate creations using fresh seasonal ingredients, and infusing culinary delights. Those who prefer the vino can choose to partake in a 3.5 hour wine seminar which includes 6 wines to taste, wine knowledge and pairing and a certificate. This workshop will help you understand the art of identifying imperfect wines, proper cellaring techniques, wine list creation, opening and basic wine tasting.
Click here to buy now or for more information about the deal. Don't miss out!