WagJag: $29 for 60 Assorted Gourmet Lollipops including Free Shipping (60% Off)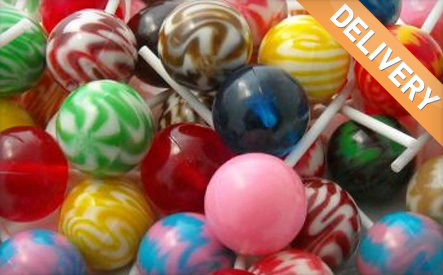 WagJag Deal of the Day: $29 for 60 Assorted Gourmet Lollipops (a $72 Value) – Shipping Included
Buy now for only $29
Regular Price $72.00
You Save $43
Discount 60%
WagJag is featuring a National deal that will get you 60 Assorted Gourmet Lollipops including Free Shipping for only costs $29 ($72 Value)! That's a savings of 60% off!
Here is the complete list of flavours (24 flavours):
Original: Wild Cherry, Pink Lemonade, Candy Apple, Pina Colada, Bubble Gum, Strawberry Banana, Blue Raspberry, Watermelon, Juicy Grape, Banana Split, Pomegranate Raspberry, Orange Splash, Cotton Candy
Cream Swirl: Blueberries & Cream, Root Beer Float, Mocha Latte, Orange Creamsicle, Strawberry Shortcake, Lemon Meringue Pie, Apple Pie a la Mode, Butterscotch Sundae, Peaches & Cream, Cinnamon Bun, Cherry Cheesecake
This is a limited 2-day only sale that will expire at midnight on Tuesday, August 14, 2012. Click here to buy now or for more information about the deal. Quantities are limited so don't miss out!
Highlights
See for yourself!
60 x 31 g lollipops
Assortment of 24 flavours
Original and Cream Swirl varieties including cotton candy, apple pie a la mode, pink lemonade, orange creamsicle, banana split, cinnamon bun, root beer float and many more
110-125 calories per piece
Nut free, Kosher
Allergen information: may contain dairy, soy, gluten
Compare at $1.20 each in candy stores
Offer Details
This product will be shipped automatically
Product will arrive within 2-4 weeks of deal closing
Unlimited buys
No additional charges
Voucher has no cash value
The Original Gourmet Food Company crafts sweet treats for discerning sweet teeth. Premium lollipops with bold flavour are a popular part of their stash of great-tasting goodies.
Luckily for the lollipop industry, there's a sucker born every minute. Set up your own in-home candy bar with a package of 60 gourmet lollipops in an array of mouth-watering flavours. Treat yourself, treat your friends, create gift or loot bags – unlimited buys let you play candy Santa and dole out endless sweet treats. Just what flavour each one is will have to be determined by your tongue – this bounty of bonbons are labeled only as "Mystery Flavour" and each box contains a random assortment.
Why We Love It
Golf ball sized lollipops last over an hour
Pack of 60 (almost 5 lbs!) lets you enjoy a bunch and gift the rest
Pops are individually wrapped and made in the USA
How this Deal Works
This product will be delivered to your home by WagJag. Here's how to get it:
1) Place your order with WagJag Grocery.
2) Enter your shipping information when prompted at checkout.
3) That's it! Orders will be delivered to your door.
Click here to buy now or for more information about the deal. Don't miss out!