Hotels.com: Extra 10% Off Promo Code (Until Sept 14)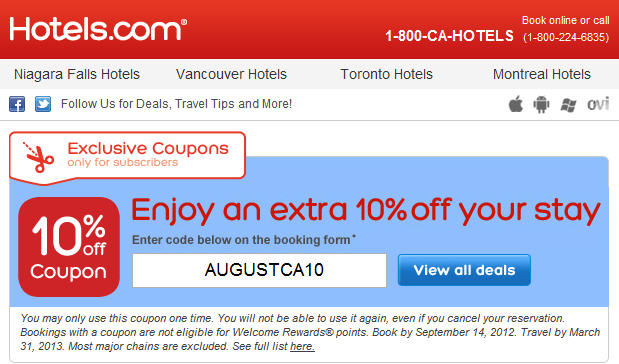 Hotels.com just emailed me a promo code that will save you an extra 10% off a new hotel booking! The promo code is AUGUSTCA10. The code is valid until September 2012 for travel between August 16, 2012 to March 31, 2013. This offer is only valid for the first 15,000 bookings using the coupon code by the deadline set forth above. You will have the opportunity to confirm the coupon code is still valid prior to completing your booking. There is a limit of (1) coupon per booking and the coupon cannot be combined with other offers.
You may only use this coupon one time. You will not be able to use it again, even if you cancel your reservation.
Bookings with a coupon are not eligible for Welcome Rewards® points. Book by September 14, 2012. Travel by March 31, 2013. Most major chains are excluded.
Click here to book a hotel on Hotels.com now.
Enjoy! Press the "Like button" at the top of this post if you like this deal and to share it with friends and family.