HOT DEAL: LeSante Spa – $79 for Three 30-Minute UltraLipo Cellulite Treatments on Your Choice of Tummy, Love Handles, Arms, Thighs or Buttocks (Save $305 or 79% Off)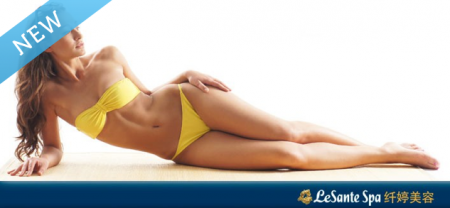 TeamBuy Vancouver Hot Daily Deal of the Day: LeSante Spa – $79 for Three 30-Minute UltraLipo Cellulite Treatments on Your Choice of Tummy, Love Handles, Arms, Thighs or Buttocks (Save $305 or 79% Off)
Buy now for only $79
Value $384
Discount 79%
You Save $305
TeamBuy has a fantastic deal to LeSante Spa today. For only $79, you can get Three 30-Minute UltraLipo Cellulite Treatments on Your Choice of Tummy, Love Handles, Arms, Thighs or Buttocks ($384 Value)! That's a saving of $305 or 79% Off! You may buy up to 2 vouchers for yourself and 2 as gifts & the vouchers don't expire until April 15th 2013.
This is a limited 1-week only sale that will expire at midnight on Friday, August 24, 2012. Click here to buy now or for more information about the deal. Quantities are limited so don't miss out!
Highlights
Get rid of cellulite and improve skin tone and appearance with the most advanced machine on the market.
The Ultra Lipo system is able to eliminate inches from the tummy, thighs, arms, and buttocks with no side effects.
Results are comparable to surgical liposuction but no pain, completely safe, and non-invasive!
Professional and friendly staff who take your well-being and relaxation to heart.
Buy Details
Includes: three 30-minute UltraLipo cellulite treatments on your choice of tummy, love handles, arms, thighs, or buttocks with the Ultra Lipo system. Each treatment must be redeemed in a separate visit. 1-week downtime between treatments.
By appointment only. Please call 604.433.8480 to book. 24-hour cancellation policy or ticket is void. Wheelchair accessible.
Tax and tip not included.
Max 2 per person and 2 as gifts.
Expiry Date: April 15th 2013
LeSante Spa
http://www.lesantespa.com/
16044338480
6411 Nelson Ave. Suite 101, Burnaby, BC
LeSante Spa uses the latest technology to achieve the best results for their customers. And today's deal is no different. The Ultra Lipo system is a state-of-the-art machine that uses ultrasound technology to eliminate cellulite and localized fatty deposits in problem areas. The ultrasonic waves from 20 to 70 KHz are able to penetrate beneath the skin surface and produce the "cavitation" effect: cellulite and fatty deposits are imploded and drained through the body's natural process. This treatment is safe, pain-free, non-invasive and has no side effects. See results after just one session! Please note: manual drainage with a massage or specific device such as a vacuum, presso massage, or electro stimulation is highly recommended after each treatment to improve and maintain results.
Click here to buy now or for more information about the deal. Don't miss out!